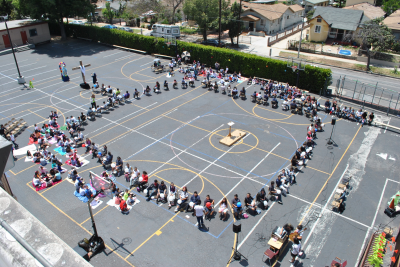 This week, the Our Lady of Talpa School family came together to honor our mother, Mary, during two special occasions for prayer and celebration.
On Wednesday, May 20, Talpa's 5th through 8th grade students led our school community in a "Living Rosary." The Living Rosary took place in the school yard, where students, faculty/staff, parents and family members gathered to pray and reflect as a community of faith. The 5th through 8th grade students sat in chairs arranged in a circular formation to represent rosary beads. Each student held a balloon to represent an individual bead.
The 5th through 8th grade students led the gathered community in each prayer of the Rosary, and also explained each Mystery of the Rosary. Thank you to our 5th, 6th, 7th and 8th graders for their leadership and example as Active Vincentian Catholics.
Our Lady of Talpa School followed the Living Rosary with a Celebration of the Eucharist and May Crowning on Thursday, May 21. In addition to crowning Mary, students presented flowers to her.
Please look below to enjoy photos from the Living Rosary.