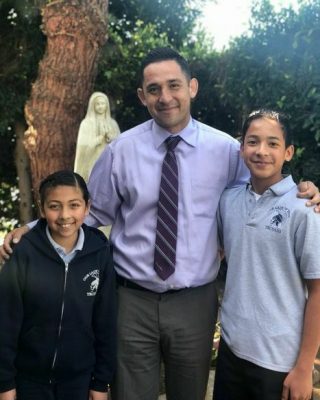 Our mission is to provide each child with a transformative Catholic education rooted in the Gospel teachings of Christ and in the lives of our Vincentian Founders-St. Vincent de Paul, St. Louise de Marillac, and St. Elizabeth Ann Seton. As a member of the Daughters of Charity network of schools, we are incredibly honored and proud to be a part of the 400 year history of Vincentian charism.
Although the last three years have been incredibly challenging due to the pandemic, I am so incredibly proud of the work our staff and children have done. Over the last two years, Our Lady of Talpa School has partnered with the Catholic Schools Collaborative Institute to ensure that our children are receiving the most-cutting edge, research-based curriculum available in the nation. Our Kindergarten through Second grades utilize Superkids as the primary reading curriculum, which is a comprehensive English language arts curriculum crafted using evidence-based literacy practices. This proven-effective program follows a unique systematic and explicit instructional path through engaging, increasingly complex text. As a a result of this implementation, and excellent teachers, we have seen excellent growth despite the challenges of the pandemic.
Our 3rd-8th grades utilize the Achieve 3000 program as our primary instructional tool for English Language Arts. Achieve 3000 is a program which differentiates reading curriculum based on the needs of each child and adapts as the year grows on. This program adapts on a monthly basis as the child develops reading comprehension skills. Our children in grades 3rd-8th are growing at rate of nearly 2 academic year in one year!
This year we begin our transition to a Reveal Math curriculum. I invite you and your child to join us on this journey! Mr. Rojas