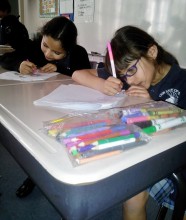 The inaugural year of Our Lady of Talpa School's new Extended Day Program has been a great success. The program, which launched on September 10, 2012, runs Monday through Friday from 3-5 p.m. It is open to all Talpa students (Kindergarten through 8th grade) and averages 80-85 attendees per day.
Ms. Rico, Extended Day Program Coordinator and Talpa Kindergarten Aide, developed the program, which Talpa launched to fulfill parents' desire for a safe, quiet environment for their children to do homework after school. The result has been a win for the entire Talpa community.
The program's daily schedule includes a 15-minute snack time, an hour period for homework, a 30-minute period for outside play, and a 15-minute period for silent reading. A dedicated staff of teachers that includes Ms. Rico; Ms. Gallo, Talpa Teacher Aide; and three college students (two of whom are Talpa Alumni) oversees and runs the Extended Day Program. Together, the teachers encourage students to work toward their fullest potential.
The staff members are present to oversee homework time, to help students with homework questions and problems, and to provide supplementary support and activities for students in areas in which they are struggling.
The goal of Extended Day is for students to complete a good chunk – if not all – of their homework each day. Since students in upper grades can receive 2 hours of homework per night, Extended Day teachers guide them to do their hardest homework first while they have the benefit of the presence of a teacher who can serve as a resource for help. During Extended Day, students also have the opportunity to study and to use the Media Center computers to conduct research for projects, to type papers and assignments, and to participate in the Accelerated Reader and Mathletics programs.
Since Talpa's classroom teachers typically do not assign homework on Fridays, the structure of the Extended Day Program differs on Fridays. "Fun Fridays" may include special art, reading or writing activities, or time for students to play board games. Additionally on Fridays, upper grade students sometimes work with Kindergarten or 1st grade students to participate in projects or games.
According to Ms. Rico, who has 8 years of experience developing and running after-school programs, Talpa's Extended Day Program is creating a positive routine for students. She said the program is teaching life skills such as time management and organizational skills, and is helping to create a change and turnaround for students who have struggled with or have not wanted to do homework in the past.
We are thrilled with the positive impact the Extended Day Program has had on our students thus far, and we look forward to seeing its continued growth and success. For more information about the schedule, setup and cost of Our Lady of Talpa School's Extended Day Program, or to learn how to enroll your child in Extended Day, please click here or call the school office at 323-261-0583.