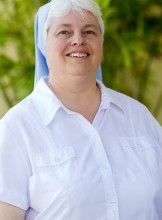 Our theme this year is "We are Many Parts, One Body." I find that this scripture passage truly describes the kind of "faith community" that we are. We have been a faith community for sixty years now. We are the dream of Fr. Jose Cervera, who wanted a Catholic school for the children of his parish. Our Talpa community was, I believe, and still is miraculous. The parish church was meant to be a temporary mission church for the families leaving Mexico during the civil unrest of the 1920's. It was expected that these families would eventually go home to Mexico; but instead, they found their home here.
The temporary mission became a parish and in 1951, Our Lady of Talpa Parish had its own Catholic School. The property that the church and school are built on was the neighborhood dump. The determination of Fr. Cervera and the faith of the people transformed a dump into something beautiful for God. Then as now we work as one body, each person bringing who they are and what they have to make our school a place of Faith and Learning – a place where the next generation can also learn how to be a member of Christ's Body and take His message to the world.
We are many parts, we are all one body – the Body of Christ.
Sister Adella Armentrout, D.C.
Principal, Our Lady of Talpa School